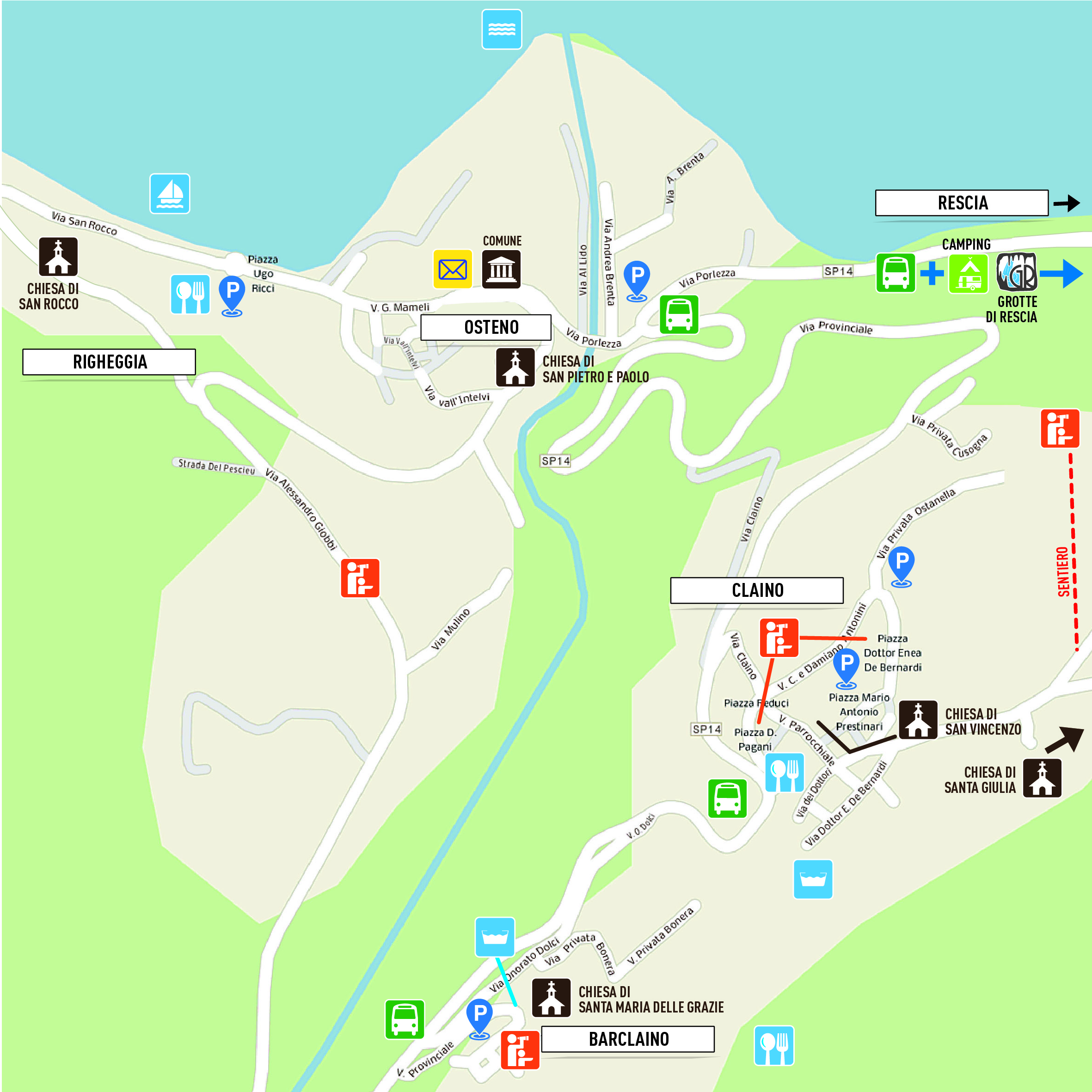 At the bottom of the Intelvi Valley, between the mountains and the lake, two small medieval villages are located: Claino and Osteno.
For those who love recreation, Osteno offers a calm and sunny beach, but also an historical and cultural route through its pebble stone alleys, arcades and churches; Renaissance sculptor Andrea Bregno's Tabernacle and Madonna and Child are preserved in the church of Santi Pietro e Paolo.
Continue along the route and you will reach Claino, with its ancient Romanesque buildings, portals, washhouses and its churches, e.g. the one of San Vincenzo.
If you enjoy trekking, you can choose among different hikes with several grades of difficulty to get to wonderful panoramic views, whereas fans of canyoning can experience a canyon trip in the stream Lirone.
On the hill sides of Claino con Osteno, near the waterfall of the stream Santa Giulia, you can visit the seven Caves of Rescia, which were hollowed out by the water's flow through the ages.
Claino's Districts
Borgo Dipinto – The Map
On the side, there is a map with orange numbers representing the progressive order of the works of Borgo Dipinto, which you can discover in the section of the dedicated site. The numbers represent the following points of interest and these monuments:
War memorial
Medieval arcade
Parish Church of San Vincenzo Martire
Medieval arch
Staircase
Renaissance façade frescoes
Waterfall
Fountain
Panoramic view point
Oratory of Santa Giulia
Cemetery
Click on the map to enlarge it and download a copy. Using a QR Code scanning app, you will be able to follow the entire route live by discovering the information related to each painting, simply framing the QR Code on the tile near the work.