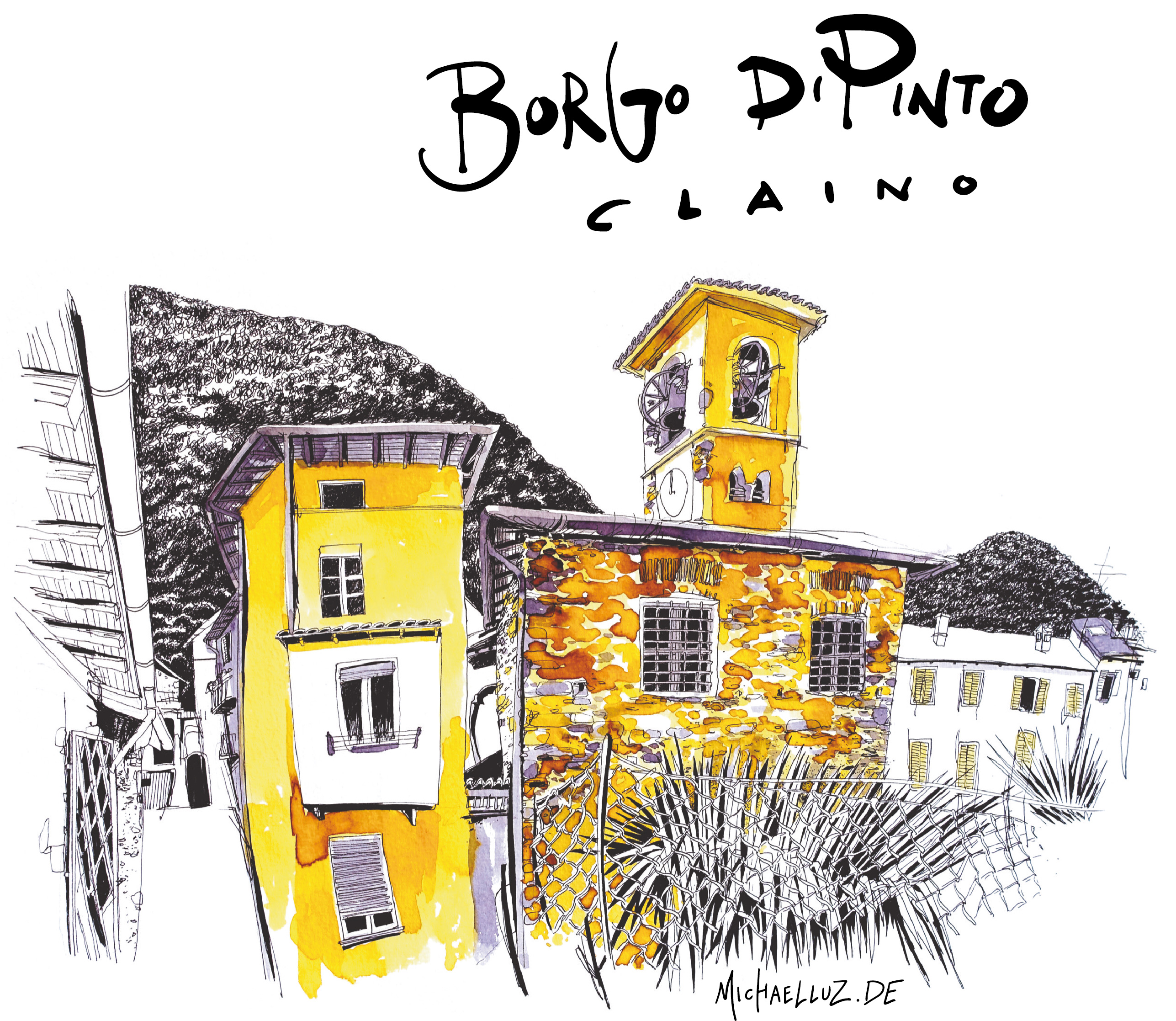 "Claino Borgo Dipinto" (English: Claino, the painted village) is a revaluation initiative carried out by the village of Claino, a district of Claino con Osteno. Claino con Osteno is a mountain town in the province of Como, and as the only town in the Intelvi Valley that overlooks Lake Lugano, it enjoys having a wonderful location between the lake and the mountains.
Claino is one of the main districts in the municipality and despite being of considerable historical, architectural and artistic interest, it has been a victim of depopulation in the last few decades. Sadly, this is a common trend among many mountain towns that consequently tends to lead to the reduction of local services, tourist and residential attractions, and, as a result, a loss in local income and profitability.
In September 2015, two of the town's inhabitants, Claudia Pasquini and Luisella Parisi, addressed a letter to the municipal administration, in which they first proposed the idea of enriching the village with artistic and cultural paintings inspired by the life of the village: "To the town of Claino con Osteno where art, culture and history merge and where artists like the Magistri Comacini left their mark. Among your ancient arches and characteristic alleys, the plasters of ancient facades lend themselves to supporting new frescoes or murals created by contemporary artists in the houses of Claino […] an open-air gallery with an artistic heritage, which is, both ancient and recent, free to visit every day of the year…a significant tourist attraction that would add to the already existing beauties of the area.".
The idea was accepted with much particular enthusiasm, particularly on the part of Mayor Giovanni Bernasconi and his administration, who, with much excitement, gave the go-ahead on "Claino Borgo Dipinto": an open-air museum of art, history and architecture which provides a unique view of Lake Lugano and the mountains of Como. The works created up until now represent what is only a starting point from which a future full of new artists, designs and colors can spring forth that will enhance Claino's special art gallery.
On the side, there is a map with orange numbers representing the progressive order of the works of Borgo Dipinto, which you can discover in the section of the dedicated site. The numbers represent the following points of interest and these monuments:
War memorial
Medieval arcade
Parish Church of San Vincenzo Martire
Medieval arch
Staircase
Renaissance façade frescoes
Waterfall
Fountain
Panoramic view point
Oratory of Santa Giulia
Cemetery
Click on the map to enlarge it and download a copy. Using a QR Code scanning app, you will be able to follow the entire route live by discovering the information related to each painting, simply framing the QR Code on the tile near the work.